4th Annual General Meeting 2018
January 11, 2018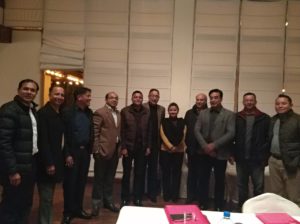 The 4th Annual General Meeting of Manang Air Pvt. Ltd. was concluded on the 10th of January 2018 in Hotel Shangri-La. The chairman Mr. Satis Pradhan presented the annual progress report 2073-2074 to all the shareholders of the company. The audit report of 73/74 was presented in the AGM and was unanimously approved by the shareholders of the company. The chairman also highlighted the benefits provided to the shareholders and the employees of the company in the fiscal year 2073-2074.
The new Board of Directors were also nominated in the AGM. Mr. Satis Pradhan, Mr.Rajendra Malla, Mr.Krishna Gyawali, Mr.Ashish Shrestha, Mr.Ram Shrestha, Mr.Punya Poudel and Mr. Hira B Dahal.
Mr. Satis Pradhan has again been nominated as an Executive Chairman of the company.
New Placement of Manang Air
May 19, 2016
---

Manang Air Pvt Ltd has shifted to the new location.
106 N.K.Singh Marga, Araniko Bhawan
Minbhawan, Kathmandu
Capt. Ryan Alon Skorecki joined Manang Air
March 4, 2016
---
Its our pleasure to welcome Mr. Alon Skorecki in Manang Air as a helicopter Captain. Manang Air family heartly welcome him and wishes him a success in the days ahead.
Mr. Ryan holding ATPL (helicopter) licenses from FAA and CAA Newzealand, is an experienced high altitude instructor pilot with more than 5000 hours of flight time in helicopter.
Corporate Chief Raju Neupane Elected Secretary of AOAN
February 13, 2016
---

Manang Air Corporate Chief Raju Neupane has been elected Secretary of Airlines Operators Association of Nepal (AOAN) an umbrella organization of Nepalese airlines.
The Annual General Meeting of AOAN unanimously elected a 12-member executive committee on 12th February 2016.
AOAN, established in 1999, promotes safe and secure operation of flight in the country.
Sixteen domestic private airlines are associated with the association.
Manang Air family wishes him a very successful term ahead as the secretary.